Mangata Apothecary offers a wide range of herbal skincare products for everyone in the family, including children. All products are natural, clean, and cruelty-free made from herbal ingredients.
Training in herbal medicine and DIY books are also available.

Stefanie grew up in Smithers BC, surrounded by nature. As a young girl she was fascinated with adults who had a connection with the land and knew how to use herbs as medicine. In her early 30's she created Mångata Apothecary™, originally started in her kitchen in attempts to provide healthy options for her family as well as to avoid spending money on unnecessary, wasteful, and toxic products (Stefanie is a thrifter at heart and abnormally frugal!).
Stefanie currently holds degrees in both Intercultural Studies and Midwifery and is pursuing her Masters of Science in Herbal Medicine in order to solidify her herbal passion. In addition, she has spent over 2 years volunteering and providing midwifery care overseas. This education and experience has exposed her to much heartbreak and injustice. Mångata Apothecary™ is meant to not only create a passionate livelihood for her, but to also be an outlet of generosity, healing, and resourcefulness.
It is a huge desire of hers to hear everyones stories, pull out knowledge, and share resources. Each product can be made by any of you as Stefanie has divulged her secret recipes in an e-book "Eating Weeds". Grab a few pages of the book today (available to download for free) and try a few recipes yourself or stay alert to our social media pages and learn how to do-it-yourself through videos and recipes. Herbalism is not meant to be hoarded, hidden, or exploited- it is ancient knowledge meant for everyone and everyone can do it!
If this is resonating with you, reach out to her through the contact page as Mångata Apothecary™ is not only a product line but a lifestyle brand of sharing wisdom, resources, stories, perspectives and knowledge. We would love to feature you on our social pages and make sure to join our Facebook group "Mångata Herbal Bartering" to begin activating your inner herbalist.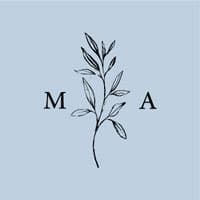 Mångata Apothecary™ is a one woman show and she seeks to stay true to the mandate of generosity and minimizing consumption. The products are made in small batches, in a small workshop, with a lot of heart. Many of the herbs are wildcrafted, the ingredients are locally sourced, and the packaging is recyclable. 
In keeping with her passion for providing midwifery care overseas, a portion of each purchase made goes towards Cedar's Network which provides health and midwifery care to Syrian Refugees (please see "Giving Back" tab below).
Let's pass on the wealth.
We are committed to providing consumers with a safe, convenient, and easy online shopping experience for all- providing high quality natural & clean products.
Thank you so much for answering all my questions, shipping super quickly and most of all, sending an AMAZING and delicious-smelling bath set!
The cream has been amazing for my 2 yr old daughter who has had horrible eczema. It cleared her skin up in 2 days!! We have tried tons of different creams and this one has worked the best. Thank you Stefanie!
This product came very quickly! Great to have a perfume that is small enough to carry with you. Smells great and love that there is flowers put right inside the oils. Nice touch!
Love this product, I use it before bed every night. Works great!
Stefanie is clearly knowledgeable about and dedicated to natural living; as her products and eBook display. Her eBook is full of beautiful pictures, recipes, and information about backyard herbs. I love that she provides incite and background about the products she produces and the natural ingredients in her products.
Our blog is dedicated to writing and sharing articles about herbal remedies, skincare, body care, wellness, and natural products.